The 2022 Hardly Strictly Bluegrass Festival in Golden Gate Park  was back to true form; there were so many bands that I lost count. Since COVID 19 hit the festival has been on hiatus save for the online streaming variety which I did not check out.  My buddy Steve from Atlanta was in town to take in the festival. We went all three days, listened to over twenty bands, and had a blast.
In 2022 the weather varied a lot.  The mornings on Friday and Saturday began clear but by 1 pm on both days the fog came in and the temperatures dropped significantly. No need for an artificial fog machine at HSB 2022, many times the stage and musicians were obscured by fog.  During the Drive By Truckers' set it began to look like a dystopian, gothic hallucination. Yes, that is the stage there in the fog.
Often October has some of the best surf, but during the HSB 2022 weekend that happen on only Saturday morning.. Saturday began with clear skies and long beautiful shoulder to head high waves. We did not venture into the waters this year but took in the waves as spectators along the Great Highway.
Without further ado,  here are the 2022 Hardly Strictly Bluegrass Festival SF Journal Awards.
BEST BLUEGRASS BAND – AJ Lee and Blue Summit
AJ Lee and Blue Summit are a hard working band from nearby Santa Cruz that is often on tour, playing festivals and shows all around the world. It is awesome that they were invited to the 2022 Hardly Strictly Bluegrass Festival as often the festival overlooks some amazing local bands. Their set featured everyone in the band and the solos and breaks were first rate. A local treasure that people in the Bay Area would be wise to to check it, even if you do not like bluegrass. It is really hard not to like this band. You can go to this festival and it is entirely possible to avoid hearing any country or bluegrass bands. I ran into some friends later on who were walking  by the little Bandwagon Stage and were blown away by AJ Lee and Blue Summit. It's bound to happen.
BEST GOSPHEL SET – DeShawn Hickman with Charlie Hunter
It is not very often that the musicians that hail from Berkeley, that grew up in the Jazz, Funk and Hip Hop scene get on the Hardly Strictly Bluegrass Festival bill, but Charlie Hunter arrived as the bassist with DeShawn Hickman. Since it was Sunday, they did an all-Gospel set and it was wonderful. Great pedal steel guitar,  nice singing by DeShawn's sister and of course some solid  bass by Charlie Hunter.  Just take note, that Charlie Hunter is a first-rate jazz guitarist. This was at the Bandwagon Stage that is starting to become one of those best secret spots of the festival.
MOST TREACHEROUSLY CROWDED SHOW – Elvis Costello
Elvis Costello was perhaps the most well-known name at the festival and the Gold Stage was completely packed during his set.  Just getting around up on the road felt a bit treacherous. When we finally met up with some friends and found a spot the sound was not so good. It was the kind of set that seemed to be more about being there than the music. Eventually Elvis played some of his classic hits and all was good. Alison, may aim is true.
BAND WITH THE MOST RAW ENERGY and BEST COSTUMES  – Las Cafeteras
Las Cafeteras is an LA band that to me was one of the big surprises. The energy they brought to their set was off the charts. Amazing costumes and high energy dance moves. The very direct, politically-charged lyrics speaking to various issues of social justice really worked in the San Francisco festival setting. A band to definitely experience live.
MOST AMAZING TRUMPET PLAYER – Eric Gordon with Galatic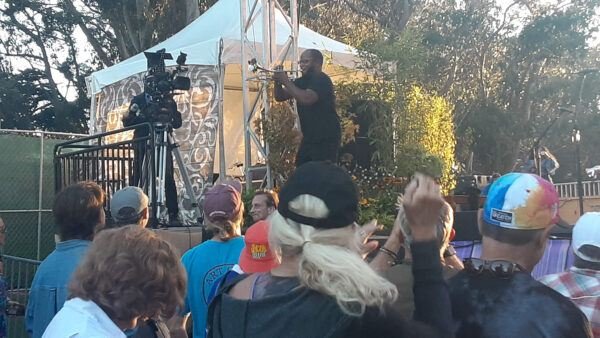 We had an excellent spot for the Galactic set at the Swan Stage. On the same stage, that a few years back Terrance Blanchard played so well, the younger Eric Gordon simply blew the house down with his powerful, impeccable trumpet. The tradition of phenomenal trumpet players that come from New Orleans continues.
BEST BABY BOOMER SET – Jesse Colin Young
I never had any Jesse Colin Young albums when I was a kid but always liked his name and surely heard his music on the radio.  It is the name of either an 19th century bank robber, a Supreme Court justice or  an unstoppable NFL halfback. Due to the cancellation of Cymande, I made the trek over to the Porch Stage and caught the Jesse Colin Young set. His acoustic guitar with lots of reverb and soulful voice came together well. My neighbors close by let me know that many of his songs sounded nothing like the originals. Jesse's house burned down in one of the recent fires and getting out playing may be a way to get back on his feet. He did play the classic Get Together that became a big hit while he was with The Youngbloods.
Love is but a song we sing
Fear's the way we die
You can make the mountains ring
Or make the angels cry
Though the bird is on the wing
And you may not know why
Come on, people now
Smile on your brother
Everybody get together
Try to love one another right now
Get Together
BEST MOTHER DAUGTER SINGING DOU – O.N.E The Duo
It is really great how many women were a part of the 2022 Hardly Strictly Bluegrass Festival.  One of the more unusual groups was a stellar, gospel oriented mother, daughter group. There was no more hiding behind the mic on the harmony parts and singing was strong and true.
Until next year, that is the SF Journal 2022 Hardly Strictly Bluegrass Festival Awards.
ABOUT
The Hardly Strictly Bluegrass Festival in San Francisco is a little like Jazz Fest in New Orleans. Big-name bands, many kinds of music and a festive atmosphere. One of the amazing things about Hardly Strictly Bluegrass Festival is that even though there are tens of thousands of people, it is always a  peaceful event, and in the end people seem to get along just fine and often make new friends. Everyone seems to pack out the trash pretty well too. Hardly Strictly Bluegrass Festival. Warren Hellman's party.  Communal music therapy.
PAST AWARDS